Search Engines
With over 80% of website traffic delivered by search engines and directories these are the best methods of promoting your web site.
There are only about 7 search engines worth paying attention to: Google, Yahoo, MSN, AskJeeves, Lycos, AltaVista, and AOL. Together they account for 97% of search engine traffic (same as in 2003).
Search engine stats see below.
Billions Of Textual Documents Indexed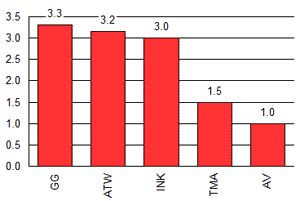 Key GG=Google , ATW=Alltheweb, INK=Inktomi, TMA=Teoma, AV=AltaVista.
The amount of textual documents indexed by the search engines can be seen above, with google having the largest index at 3.3 billion.
What does this mean?
Lets a an example search, suppose we operate a web site giving mortgage advice to UK customers. If you goto google.com and search for mortgages UK
you will see google display results indicating it has indexed and found Results 1 - 10 of about 3,850,000 (correct as of 15-10-2204)
This means it has over 3.8 million pages indexed against the keywords mortgages UK. All the top 10 sites you see in google will have bean optimised for this search term. This is known as search engine optimisation, or making your web site search engine friendly.
In order to make your web site search engine friendly there are several simple thing you should do.
1. Your Title tag should have your keywords in (the words you think your visitors will type in)
2. Meta Tags, you want to get a top ranking in search engines? No problem! All you need to do is add a few magical "meta tags" to your web pages, and you'll skyrocket to the top of the listings.
If only it was that simple!
Yes you can use meta tag some search engines still use them, but they are not as important as they once were.
The Meta Description Tag
The text you want to be shown as your description (generally, 200 to 250 characters may be indexed, though only a smaller portion of this amount may be displayed).
The Meta Keywords Tag
The meta keywords tag allows you to provide additional text for crawler-based search engines to index along with your body copy (text on your web page). How does this help you?
For most major crawlers, it doesn't. That's because most crawlers now ignore the tag.
But if you wish to include the tag see HTML Tags page for guidance on how to use these.
What is the most important thing to get your web site to rank highly in search engines?
The sixty four thousand dollar question?
There is no simple way of achieving this, but the best way is to provide unique quality content and get other relevant websites to link to your web site to not only provide quality traffic but to also improve your link popularity.